Christmas 2022 - Here's What You Need to Know About Christmas,Rudolph the Red-Nosed Reindeer,Jingle Bells,Cookies and Milk for Santa and First Christmas Tree

Christmas 2022 | Here's What You Need to Know About Christmas
Christmas is a particular time of year that brings families together to celebrate the most magical holiday. It is a time of giving, joy, and love when people come together to share good food, drinks, exchange gifts, and create special memories.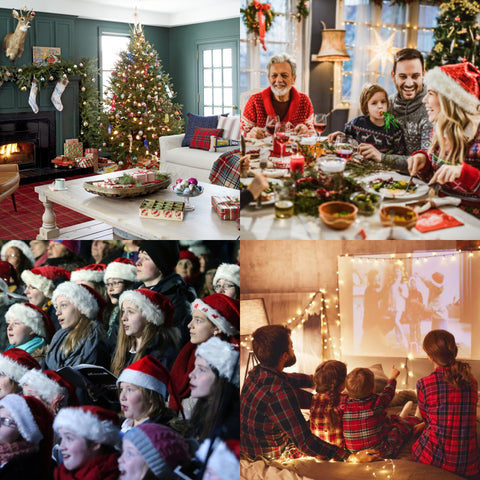 Photo Credit: country living/ istock/irishnews/iheart
So how will you celebrate Christmas in 2022 this year?
Well, there are some suggestions, we could...
start off by decorating our house with traditional Christmas decorations.

have a feast with our family, including some traditional holiday dishes.

go around and sing carols together to get everyone in the festive spirit.

watch classic Christmas movies and share stories about past Christmases.
We have celebrated Christmas since childhood, but how much do you know about Christmas?
Here are some interesting facts about Christmas that you may not know.
Who Created Rudolph the Red-Nosed Reindeer?
Rudolph, the Red-Nosed Reindeer, is one of the most beloved characters in Christmas folklore. He was created by Robert L. May, a copywriter at Montgomery Ward department store in 1939, as part of a Christmas promotion. Initially, he wrote a booklet with a poem that told the story of Rudolph and distributed it to children who visited their stores during the holiday season.
Photo Credit:ahcwyo.org
It tells the story of a young reindeer named Rudolph, born with a bright red nose that glows in the dark. Because of this, the other reindeer make fun of him and refuse to let him join in their activities. However, when Santa Claus needs help on a foggy Christmas Eve, Rudolph comes to his rescue and helps lead Santa's sleigh through the fog, allowing him to deliver presents to all the children around the world. Then, Rudolph finds acceptance among his peers through his bravery and selfless act and becomes an icon of determination and courage.
Photo Credit:chicagotribune/hbcheritage
Later, the character was an immediate success and eventually spawned various books, movies, television specials, and other merchandise. May's brother-in-law John David Marks composed and wrote the classic song "Rudolph the Red-Nosed Reindeer" in 1949, further increasing Rudolph's popularity and cementing his place in the Christmas tradition for generations to come.
At this moment, are you singing that song in your head right now?
"Rudolph, the Red-Nosed Reindeer,had a very shiny nose, and if you ever saw it, you would even say it glows. All of the other reindeer, used to laugh and call him names. They never let poor Rudolph,play in any reindeer games..."
Was the Song Jingle Bells Written for Christmas or Thanksgiving?
The song Jingle Bells is one of the most popular songs. However, the origins of the song "Jingle Bells" are as mysterious as enchanting.
One version suggests that James Lord Pierpont wrote it in 1857 for the Boston Holiday School choir students. This was done on Thanksgiving Day, originally called "The One Horse Open Sleigh." The story goes that Pierpont wrote a melody to capture the sound of horse-drawn sleighs racing through snow-covered streets and that he wrote it specifically for children to sing during the holiday season.
Photo Credit:Library of Congress via BU Today
The other version of the story is that Pierpont was living in Medford, Massachusetts, at that time. He wrote the song for a Thanksgiving Day sled race at a local church. This event was held annually and was extremely popular in the small town. It is believed that Pierpont wrote the song as a way to make the event more festive and exciting for those who attended. He even added lyrics about sleigh-riding, which further demonstrates his intention to make the race more enjoyable. Today, a plaque commemorates the birth of the Jingle Bells on 19th Street in the center of Medford Square in Medford, Massachusetts.
However, the song was not originally associated with Christmas but was later associated with winter Christmas music in the 1860-1870s. Now Jingle Bells is one of the most popular Christmas songs in the world. Millions of people sing the catchy tune every year, which has become a staple of holiday celebrations worldwide. More surprisingly, Jingle Bells is one of the songs ever played in space (1965).
Why Do We Leave Cookies and Milk for Santa?
We leave cookies and milk for Santa on Christmas Eve to thank him for all the gifts he brings us. This is a tradition that many children look forward to each year, as it is an exciting part of their holiday celebrations. However, do you know why there is this tradition?
Every December 6th is Saint Nicholas' Day, the customary early Christmas in Russia, Greece, Germany, Dutch and other countries. In fact, the image of Santa Claus comes from St. Nicholas. During this holiday season, Saint Nicholas brings gifts to children, and children also leave food to him to thank him for saving the dying and the suffering.
Photo Credit: CPCO Catholic Principals' Council Ontario
Dutch children have a tradition of leaving cookies and milk to St. Nicholas as a thank you. This tradition dates back to the 17th century when Dutch settlers brought their customs to America. On this day, children leave out their shoes before bed in anticipation of St. Nicholas' arrival overnight. When they wake up, they find treats such as cookies, oranges, and chocolate coins left in exchange for their shoes. The cookies and milk are believed to help fuel St. Nicholas' voyage back home.
Another version is that during the Great Depression, many parents teach their children to leave snacks for Santa Claus and his reindeers. This is done to show gratitude for the figure who represents kindness and generosity. Parents take time to explain why they do this, so their children can learn about the point of giving back. Until now, it has been an ancient tradition handed down from generation to generation to give Santa cookies and milk and reindeer carrots.
What Is The Story Of The First Christmas Tree?
It is said that the first Christmas tree is about the birth of Jesus. In Bethlehem, Israel, the Virgin Mary and St. Joseph walked to a small palm tree. She felt very tired, so they rested under the tree for a while, and the small palm tree spread its branches to protect her from the cold wind.
Photo Credit: almanac
In the middle of the night, Jesus Christ was born. Suddenly, a bright star appeared in the sky, emitting a wonderful light directly shining on the head of the small palm tree. The lights on the tree represent Jesus' light coming into the world. Later, people decorated Christmas trees with apples, candles, and stars, and putting a star at the top of the Christmas tree became a tradition. The star was called the Star of Bethlehem.
Today, decorating a Christmas tree is a common tradition worldwide that brings joy and excitement to people of all ages during the holiday season. Not only does it symbolize faith and hope, it also serves as a reminder of how far we have come since those first days of celebrating Jesus' birth centuries before.
Conclusion
Christmas is a beloved holiday that has evolved over time. From the creation of Rudolph the Red-Nosed Reindeer to the decoration of Christmas trees, there are countless stories of hope, faith, and generosity that encapsulate the spirit of Christmas. These stories remind us all to be kind to one another and show appreciation for the things we have.We hope you enjoy reading these interesting facts and even learn something new.
During the holiday season, we also want to spread a little festive cheer, with our Christmas Giveaway to make your Christmas more special! We have plenty of fantastic prizes, such as Brand New Model Gevi Nugget Ice Makers, Coupons and Amazon Gift Cards! Click the video to sneek first through Christmas Decoration of Gevi Household!
Finally, from all of us at Gevi Household, we wish you and your family a very Merry Christmas!